During an unexpected week back in the UK, I noticed there were races practically every night within 45 minutes of my mum's house. Here's my account of my little tour of north-west running:
Monday 6 June - easy run
I eased myself into the week with a brief trot along the Leeds-Liverpool Canal, which runs behind my childhood home.
This regular route passes Aintree racecourse and you can look across to the Valentine's Brook and Canal Turn Grand National fences.
More importantly, it also passes the Blue Anchor - formerly run by legendary Everton goalkeeper Ted Sagar (who lived next door to my granddad) - and scene of my quiz team once winning a £100 jackpot.
The turning point for this out-and-back three-mile canter is Wango Lane swing bridge, where I once saw a red-breasted merganser (that's an impressive sort of duck) but no such luck on this occasion.
Dist - 3.15m, time - 28:43, elevation gain - 6m
Tuesday 7 June - Paddy's Pole fell race
There aren't so many fell races within striking distance of Ealing but I always keep an eye out for any that look manageable when I'm up north.
They're particularly good when you're missing your mojo, or just aren't in shape to run fast, because you're more focused on staying on your feet and just getting round. It reminds me of when I first started racing.
Try fellrunner.org.uk if you're interested.
This race took place near the village of Chipping, in the Bowland Fells, and its starting point was obvious by the dozens of cars lining a country lane.
There's an appealingly informal atmosphere at many Lancashire races. Here, registration took place from the back of a van and I was handed the number 100.
So it was that 100 hardy Lancastrians - and one Ealing Eagle - set off up the road leading to Fair Snape Fell. One guy had set off early and we were told: "If you see him, he's using a crutch but don't worry he's fine." I thought he was joking until I saw photographic evidence on Twitter.
After a short burst on tarmac, the route took us onto the boggy fellside. I say route but on lifting my head I saw most competitors in a line about 30 metres to my left, with a flock of confused sheep penned between us. A few stragglers were a similar distance to the right. None of the paths looked particularly quick.
Within a quarter of a mile, the entire field was walking, bent double against the gradiant like a police search team combing the land for evidence.
Paddy's Pole from the trig point on Fair Snape Fell [Photo: Tom Richardson]
Even when I did muster the energy to run during that initial climb - 186m within two-thirds of a mile - I went little faster than walking pace. Cresting that only offered a few hundred metres of respite before the uphill struggle resumed in the form of another 100m climb over the second mile.
No cheering crowds to help you up, either. Aside from startled sheep, only the occasional hill walker paid us any heed and these bluff sorts reserved their encouragement for their local team.
Rounding the trigonometrical beacon and Paddy's Pole itself afforded those of us who weren't trying too hard a chance to take in the view.
The beauty of these fells is in their bleakness, and they started to look a little more threatening as mist began to veil the view across to Parlick.
Distant thunder offered an extra incentive to quicken the pace. However, so steep was the final plummet downhill (150m in 1/3 mile) that I found it just as difficult as the climb.
Wobbling around in cushioned road shoes (my trail shoes were at home), I was forced to step aside to let others pass and even stopped altogether at one particularly steep point.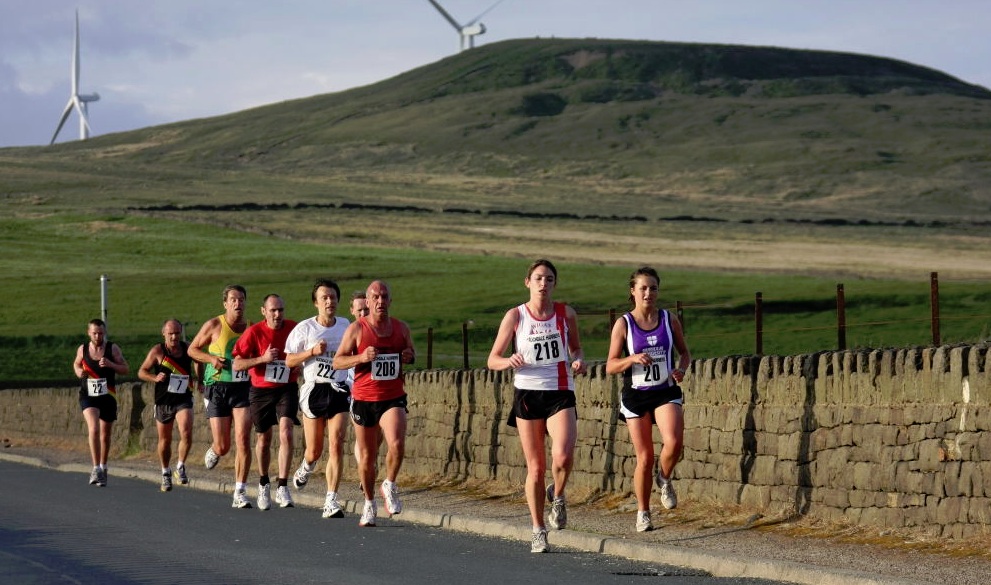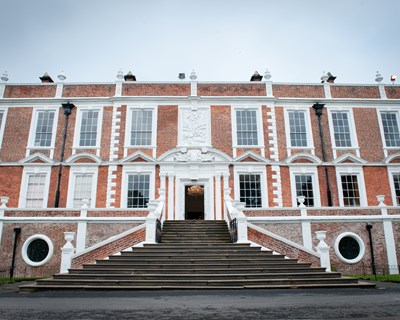 I finished 20th from the back, and second-last in my age category, but the race proved a breath of fresh air in more ways than one.
Pos - 81/101, distance - 3.74m, time - 44:51, elevation gain - 329m
Wednesday 8 June, Birkenhead Park 5-mile Road Race
If there was little fanfare ahead of the fell race, then this one went a step further. Most runners were still chatting away their pre-race nerves when the starting pistol nearly killed a few - myself included - stone dead with fright.
This was my first visit to Birkenhead Park, Britain's first such publicly-funded space and one which is acknowledged to have been the model for New York's Central Park.
I was impressed by its Regents Park-style pavilion and cafe, woodland, lakes and bridges.
Its layout, and the presence of so many club vests, reminded me of the Self Transcendence Battersea Park races so beloved of PB-hunting Eagles.
Birkenhead Park [Photo Sue Adair/Wikipedia]
Having first been run in 1972, this is billed as Merseyside's oldest race. It consisted of one short lap and three longer ones, if I didn't miscount, the race was on good surfaces with just a small incline.
Having recently run about three times a week - usually two short hill bursts and a 7 to 11-mile beachfront run, I was nowhere near PB shape.
I thought I might struggle to go much quicker than 8min/miles so was reasonably pleased when my watch was clocking about 7:20. My legs felt strong, if lacking pace.
Unlike Battersea, which tends to come up a bit short on my Garmin, this one measured a bit long. But 38:18 still wasn't my worst effort at a distance I always find difficult.
Pos ?/?, distance - 5mi, time 38:18, elevation gain - 15m
Thursday 9 June, Not the Walsh Two Lads Fell Race
The only trouble with fell racing in unfamiliar places is that finding the start can sometimes be tricky.
So it proved when - with less than 10 minutes till the starting gun - I found myself in Chorley, rather than the Bolton parish of Horwich where I was supposed to be racing.
I wasn't far away but the road signs weren't helping me and I decided to abandon the race. I still wanted to run, however, and followed some brown signs to a country park just outside Blackburn.
I'd never heard of Witton Country Park and feared its gates might be shut. However, I needn't have worried. As I arrived just before 8pm, there must have been 200 people warming down after taking part in a free 5k group run - a brilliant initiative, I've since learned, started by one man whose life was transformed by a couch-to-5k scheme.
Aside from that, there was a six-lane track with field facilities, a cycle club, artificial pitches where numerous netball matches were in full swing and an adventure playground.
I headed along one of the trails in search of a viewpoint at Billinge Hill and was soon climbing through dense woodland, with only birdsong and the crunch gravel underfoot for accompaniment.
I missed the hill and ended up dropping to the banks of the slow-moving River Wear, where I hoped in vain for the electric blue flash of a kingfisher. Instead, I was serenaded by a blackbird from atop a dead tree as I crossed a bridge. Few sounds are sweeter.
I left the river and climbed again, this time through a beautifully kempt cemetery, before heading up a farm track. I'm never that happy around cows but they eyed me with only minor interest as I eventually chanced upon the vista I'd been looking for - revealing rolling hills south towards Darwen.
With the sky darkening, I decided not to risk getting lost again and plunged back through the woodland back to the car.
I'd hardly noticed the 5.2 miles I'd covered - by coincidence the same distance I'd have run had I made the fell race (albeit with 185m of climb, rather than 274m).
I felt great afterwards.
Distance 5.22mi, time 53:32, elevation gain 185m
Friday 10 June - Norden 6 mile Road Race
Described as a "fell race on the road", this forms the first of an intriguing three-day event in the hills north-east of Manchester. (T-shirts only to those who finish all three and prove it by carrying a tag on the last day and leaving it at the top of Knowl Hill.)
This was yet another informal start. No road closures here: just wait for a gap in the traffic, swamp the road and then bang! Off you go.
The first mile and a half was one steady incline. However, the gradiant was much less fierce than my outings earlier in the week, so I enjoyed the views.
To the left were the sort of Buttercup-filled fields where you might expect to spot Tinky Winky, waving his handbag. To the right were lonely moors, home only to wind turbines and the occasional stone farmhouse.
Photo from the 2015 race [Ian Slater/Rochdale Harriers]
Then it was a left turn over the dam at Ashworth Moor Reservoir and mostly downhill to the end along the sort of roads, bordered by high hedges, that would make Postman Pat feel at home.
Plenty of better downhillers passed me and, to be honest, I didn't feel inclined to try too hard to follow. I re-took a couple on some cruel, sharp hills that cropped up later in the race.
Drizzle and steamed-up glasses meant I couldn't take in too much after half way but I was pleased to be able to step on the gas at the five-mile marker and post my quickest mile of the race.
A cone of chips from a cracking chippy near the finish meant I topped off the night in true Alf Tupper style.
Another great race and I was sorry I couldn't do the full three-day event.
Pos 91/130, Distance - 6mi, time - 50:33, elevation gain - 173m
Saturday 11 June - Croxteth Hall Parkrun
There are two parkruns close to my mum's house, offering a choice of a windswept promenade at Crosby or the winding woodland trails of Croxteth Hall Park.
Or to put it another way, the locations of a romantic stroll past the haunting statues of Antony Gormley's Another Place installation during Clara's first visit to Liverpool, or of lustful - if ultimately fruitless - face-licking with my first girlfriend a decade or so beforehand.
Naturally, I chose the latter and after clambering out of my car tried desperately to restore some life to legs still stiff from the race I finished barely 12 hours earlier.
Croxteth launched just over a year ago but has built up an impressive community, with 333 runners lining up at the start in front of the hall which was built in 1575 and gradually extended into a handsome Edwardian stately home.
Croxteth Hall [Image: Liverpool City Halls]
It was a wet morning but the canopy of trees over most of the route kept us dry. There are a few little inclines but nothing too taxing.
Still, my tired legs were struggling to keep even to 8min/miles. At least they were until, with a mile to go, I was passed by a tubby bloke in a reproduction 80s Liverpool away kit.
That gave me the jolt I needed and I retook the place before stretching away and giving it a decent kick towards the finish.
Pos - 78/333, distance 3.08mi, time - 23:54, elevation gain - 15m
The parkrun neatly took my week's endeavours up to marathon distance.
My total running time was 3:59.42. So a sub-four hour marathon. Or sub-one week, at least, depending on which way you look at it.
Mostly, though, it had allowed me to see a bit of the world and enjoy running for running's sake. I finished the week feeling a whole lot healthier than I started it. Oh, and I got to hear loads of brilliant "proper" accents.
Maybe I should do this once a year?
If you find yourself in the north with time to run, a race-finder site I find particularly useful is John Schofield's UK Results service.
It has plenty of interesting events that might otherwise slip under the radar. Note, though, that some won't make it onto Power of 10.
Total distance - 26.38mi, time - 3:59.43, elevation gain - 762m
* These things sound so much better in schoolboy French